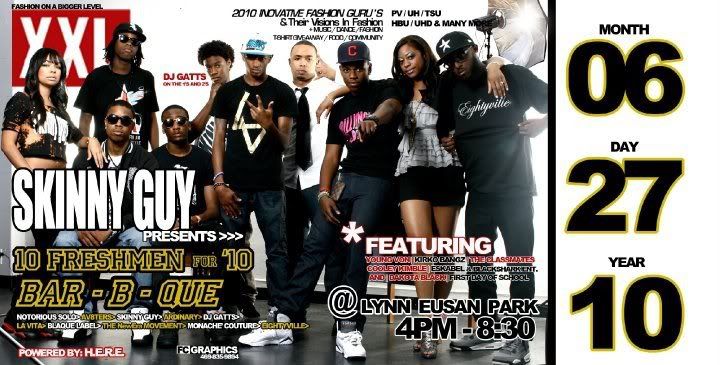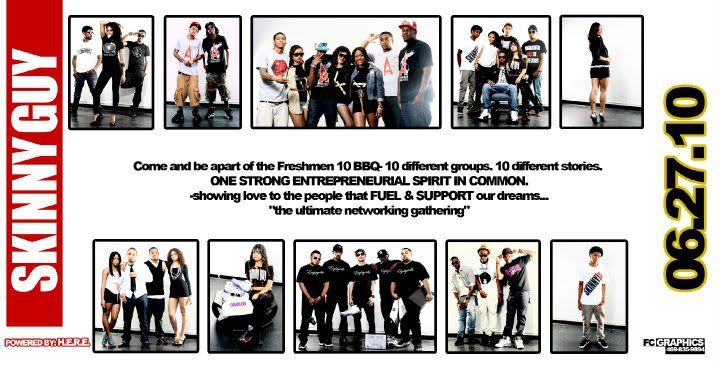 SKINNY GUY PRESENTS>>> 2010 INNOVATIVE FASHION GURU'S>>> 10 FRESHMEN FOR '10 BAR-B-QUE @ LYNN EUSAN PARK 4PM -8:30 ON 06/27/10 AND EIGHTYVILLE IS IN IT
-FREE FOOD, DRINKS, GOOD MUSIC AND T-SHIRT GIVE AWAYS. FOR EVERYONE THAT COMES OUT! COME AND BE APART OF THE FRESHMAN 10 BBQ- 10 DIFFERENT GROUPS. 10 DIFFERENT STORIES. "ONE STRONG ENTREPRENEUR SPIRIT IN COMMON"
-SHOWING LOVE TO THE PEOPLE THAT FUEL & SUPPORT OUR DREAMS... "THE ULTIMATE NETWORKING GATHERING"